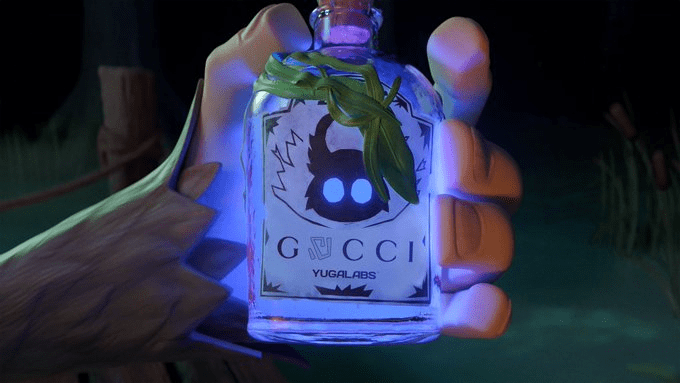 Gucci Expands Its Presence in the Metaverse Through Multi-Year Partnership with Yuga Labs
The luxury brand to explore fashion in the Metaverse and play active role in Bored Ape-themed game and digital fashion store.
Fashion giant Gucci is expanding its presence in the metaverse through a multi-year partnership with blockchain technology company Yuga Labs, known for its Bored Ape Yacht Club, CryptoPunks, and Meebits NFT collections, as well as its virtual fashion store 10KTF.
The collaboration between the luxury brand and Yuga Labs will focus on exploring "the intersection between fashion and entertainment in the Metaverse," according to a release via Business of Fashion. Gucci will play an active role in two of Yuga Labs' ventures: Otherside, a metaverse game themed around the Bored Ape Yacht Club; and 10KTF, a digital fashion store.
"Stay tuned as a new narrative takes shape, blurring the boundaries between the physical and digital," Gucci announced in a tweet. "We are excited to unveil this multifaceted partnership with Yuga Labs, a leader and creative pioneer in web3," Robert Triefus, Gucci's senior executive vice president, corporate and brand strategy, said in a statement. "This will give us an active role in Otherside and 10KTF's continuing narrative, unfolding in multiple forms."
Continuing to explore the Metaverse, the House comes together with @yugalabs. Stay tuned as a new narrative takes shape, blurring the boundaries between the physical and digital. pic.twitter.com/v60mzcgqqY

— gucci (@gucci) March 27, 2023
Gucci has previously been involved in NFT and metaverse-related projects. The company worked with 10KTF on the "Gucci Grail" project, which featured NFTs customized with Gucci's designs and accessories. In February, Gucci began releasing a series of NFTs in partnership with SUPERPLASTIC, a company that creates digital and physical collectibles. In June, Gucci reportedly filed for trademarks related to NFTs, cryptocurrency, and metaverse ventures before releasing a series of NFTs in collaboration with SuperRare that highlighted significant moments in Gucci's history. In October, Gucci also bought virtual land in metaverse game The Sandbox.
As of August 2022, Gucci had reportedly earned $11.6 million from NFT sales.
The luxury brand's recent partnership with Yuga Labs follows a highly publicized legal dispute involving fashion rival Hermes. Earlier this year, Hermes was involved in a lawsuit with an NFT artist who created a "MetaBirkin" collection. The fashion company claimed that the collection infringed on its trademarks.
WHAT DO YOU THINK ABOUT THIS CONTENT?
COOL!
NOT BAD!
NOT COOL!