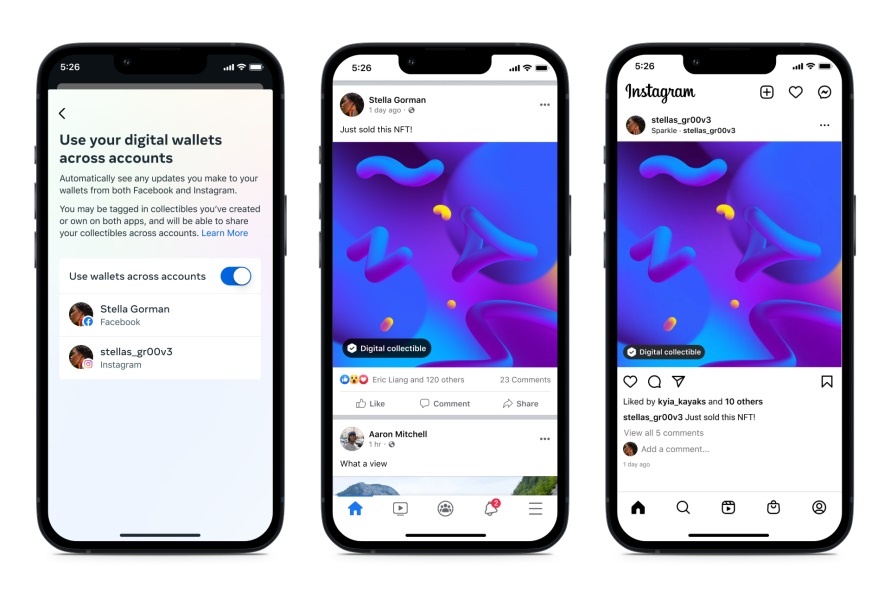 Meta is now testing NFTs on Instagram
Creators and collectors will be able to display post their NFTs on Instagram – and soon on Facebook too.
Starting this week on Instagram, Facebook's parent firm Meta will testing digital collectibles with select US creators and collectors that will be able to share NFTs that they have created or bought across the platform.
"As we continue rolling out digital collectibles on Facebook and Instagram, we've started giving people the ability to post digital collectibles that they own across both Facebook and Instagram. This will enable people to connect their digital wallets once to either app in order to share their digital collectibles across both," revealed the company in a blog post updated on Monday.
Meta also pointed out that the new feature "includes connecting a digital wallet, sharing digital collectibles and automatically tagging the creator and collector" and that "there will be no fees associated with posting or sharing a digital collectible on Instagram." As of today, the social media platforms support connections with third-party wallets including Rainbow, MetaMask, Trust Wallet, Coinbase Wallet and Dapper Wallet coming soon. Supported blockchains at this time include Ethereum, Polygon and Flow.
On May, Meta CEO Mark Zuckerberg stated through a post that the Non-Fungible Tokens (NFT) feature would soon be introduced to Facebook and Instagram.
WHAT DO YOU THINK ABOUT THIS CONTENT?
COOL!
NOT BAD!
NOT COOL!